Hospice of Crawford County, Inc.
Hospice is a positive support system for families and those who are in the last stages of a terminal illness. Hospice neither hastens nor postpones death, rather, it promotes the concept of comfort, dignity and respect for all persons until the moment of death. Hospice is all about living—living to the utmost until it is time to say farewell. Hospice is designed to help people who are nearing the end of life's journey to live as fully as possible at home, in familiar surroundings, close to family and friends.
Learn more about Hospice of Crawford County, Inc.:
History of Hospice of Crawford County, Inc. Hospice of Crawford County, Inc. was incorporated in 1984 to enable patients nearing
Read more information
Hospice Makes the Road Less Lonely
Our hospice program and The Marquette Hospice House at Meadville Medical Center (MMC) give attention to the needs of the whole person—physical, mental, emotional, and spiritual. Like the spokes of a wheel, our interdisciplinary group of physicians, nurses, social workers, spiritual counselors, home health aides and volunteers work together as a team to assess and meet the needs of the patient and their family, always keeping the patient at the hub of the wheel.
We believe fear of the unknown makes the journey more difficult. We educate the patient and family about the illness, its symptoms and treatment, pain control, and the grieving process. Our hospice program also serves as a guide through the final months to help know what to expect.
Our mission and philosophy statements sum up our approach to hospice care:
Our Philosophy: Dying is a normal process of life.
Our Mission: To enable patients nearing life's end to live free of pain, symptoms, and anxieties and empower them and their families to experience an optimum quality of life.
Hospice of Crawford County provides individualized end-of-life care to patients in their home environment. Home environment includes the patient or family home, an assisted living facility, a group home, a long-term care facility, or the Marquette Hospice House. Our specialized, professional team provides care in accordance with patient and family goals.
The following is a brief review of the professional team and their roles in providing care:
Medical: All care is provided under the direction of either your primary care physician or the hospice medical director. The physician is contacted for any change in your condition requiring a change in medication and / or treatment. In addition to as-needed contact, your hospice team provides your primary physician with a written report summarizing your condition. Our medical directors meet regularly with the hospice team to review all patients and their conditions.
Skilled Nursing: Registered nurses make regularly scheduled visits to patients providing physical assessments, pain and other symptom management, wound care and treatments, and education and support to caregivers assisting them to provide for their loved one's care needs. The registered nurse ensures patients have all medications, supplies, and equipment necessary for care. In addition, registered nurses are available 24 hours a day, 7 days a week for any concerns, problems, and emergencies. Occasionally, patients may be visited by licensed practical nurses that provide care under the direction of the registered nurse.
Social Service: Our social workers provide education, support, and assistance regarding non-medical needs. They are available to assist with advanced directives / living wills, financial or legal concerns, accessing community resources and any identified social needs.
Chaplain: The chaplain is available to assist with any spiritual needs for both the patient and caregivers. Our chaplain is also available to perform funerals when requested.
Hospice Aide: Our hospice aides are certified nurse aides. They provide personal care to patients on a regularly scheduled basis. Hospice aides are available to assist with light housekeeping. They also provide the "little things that mean so much" such as back rubs, styling hair, painting fingernails, soaking feet, and other services. Hospice aides are an important source of support for caregivers and patients.
Volunteer Coordinator and Volunteers: Our volunteer coordinator is responsible for recruiting, training, and supervising our dedicated and active corps of volunteers. Volunteers provide a wide variety of services including visiting / supporting patients and caregivers, staying with patients to allow caregivers some rest and opportunities to run errands and so on, office support and fundraising.
Hospice Services We Provide
We understand that our care does not end with the patient's death. We are committed to providing bereavement support for the year following the death. We also provide the community with monthly Bereavement Support groups as well as Bereavement Class series offered twice yearly. The hospice concept is predominantly a home health care program of services. This can include caring for patients who reside in a personal care home. We also provide hospice services for patients in an extended care facility, the Marquette Hospice House. In addition, we oversee inpatient respite care.
Who Is Eligible for Hospice Care?
Hospice is available to any resident of Crawford County or contiguous areas of surrounding counties who have been diagnosed as having a limited life expectancy. The patient must be under the care of a physician who authorizes the ongoing plan of care and who works in affiliation with the interdisciplinary hospice group of caregivers. There must be at least one individual in the household willing to help provide care and assistance to the patient.
Hospice of Crawford County, Inc. is a non-profit organization affiliated with Community Health Services of Crawford County, Meadville Medical Center and the United Way. We are Medicare and Medicaid certified and a member of the Pennsylvania Hospice Network and National Hospice Organization. Hospice care is fully covered by Medicare, Medical Assistance and most private insurance plans.
Hospice of Crawford County is:
Palliative Care Certified
Medicare Certified
Licensed in Pennsylvania
A United Way Agency
CHAPS Accredited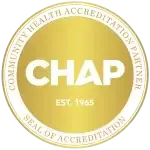 Our medical directors at Hospice of Crawford County are:
Board certificated in Hospice and Palliative Care
We are members of:
National Hospice and Palliative Care Organization
Pennsylvania Hospice Network
Accreditation/ Certification
Hospice Accreditation
As a recognized leader in Hospice Accreditation, our process provides the guidance and resources providers need to deliver the best patient care. CHAP understands hospice is delivered wherever a patient calls home, including hospice centers, hospitals, nursing homes and other long-term care facilities. As a result, we have created an easy to implement accreditation process. The CHAP Standards of Excellence for Home Health Providers, created by providers for providers, covers all aspects of Home Healthcare, for both public and private agencies. They include home aide care as well as occupational therapy, physical therapy, speech and language therapy, medical social work, nutrition counseling, and all other services.
All of our CHAP Site Visitors, who guide you through the process, are Registered Nurses (RNs) with many years of experience in hospice. They are familiar with the workings of hospice care teams that include physicians, physician assistants, nurse practitioners, home health aides, social workers, and therapists. They also understand the challenges of working with this special group of patients and weave the standards of our accreditation program into your facility's protocols as seamlessly as possible.
Palliative Care Certification
Palliative Care is the organized delivery of patient and family-centered care that optimizes quality of life by anticipating, preventing, and treating symptoms of individuals with serious illnesses. Palliative care addresses the physical, emotional, social, and spiritual needs of the patient and the family, as well as facilitating access to information and choice. It is provided and coordinated by an interdisciplinary team in any setting. The CHAP (Community Health Accreditation Partner) Palliative Care standards are informed by providers of palliative care and the National Consensus Project for Quality Palliative Care. Clinical Practice Guidelines for Quality Palliative Care 4th Edition. Richmond, VA: National Coalition for Hospice and Palliative Care; 2018. Certification is awarded for three (3) years and is available to Palliative
Care Programs that are:
A service of an existing setting such as a physician practice, Assisted Living Facility, SNF, etc.
A service of a currently accredited hospice or home health agency.
An independent provider of palliative care.
Hospice & Palliative Providers