A new school year is often an exciting but busy time for parents and students! Any idea to plan ahead and save time is always welcome, including ideas for planning and packing lunches. An added bonus? Making those lunches healthy and delicious!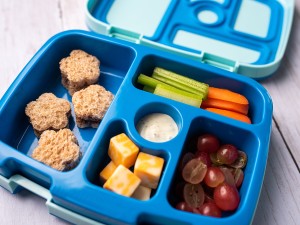 "Bento boxes are a great way to organize the different food groups into an appealing lunch for children," says Stefanie Arblaster, RDN, an outpatient clinical dietitian at Meadville Medical Center's Mind-Body Wellness Center. "I also love how using bento boxes help children to see appropriate portion sizes and the importance of color and variety in a meal! They're low-effort and easy to put together for your busy, back-to-school mornings."
"And if you don't have a bento box on hand, no worries! You can use any divided Tupperware container or simply place the ingredients in plastic bags or individual containers for your children to enjoy. The main idea is making sure to include color, variety, and fun in kids' lunches to make them excited about healthy meals."
Color and variety across the food groups can ensure an ideal lunch easily fulfills the following criteria:
Easy, low-effort, or minimal preparation
Balanced food groups
Food that is rich in fiber, micronutrients, and protein to help keep one full throughout the day.
Bento Box Lunch Ideas
1. Turkey and Cheese Pinwheels
Ingredients:
Whole-wheat tortilla
3-4 slices of low-sodium turkey breast
Sliced cheese
A handful of mixed greens or spinach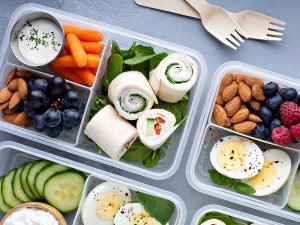 Lay all ingredients on top of the tortilla and roll them up. Cut into 3-4 small pieces (AKA "pinwheels")
Suggested sides with turkey and cheese pinwheels:
Carrot sticks with 2-3 tablespoons of hummus or veggie dip
Low-fat, high protein ranch dip: mix plain, fat-free Greek yogurt with ranch packet seasoning
½ cup fruit of choice (berries, apples, bananas, cantaloupe, etc.)
2.  Meatless Bento Box
Include the selected options:
Peanut butter and celery sticks
High-protein yogurt (look for 10-15 g of protein per serving) with ½ cup of fruit of choice (examples: berries, chopped banana, chopped apple)
1 string cheese stick
1 serving of nuts (almonds, cashews, pistachios, peanuts)
3. Tuna or Chicken Salad Dip
Ingredients:
Mix 1 can or pouch of chunk light tuna or chicken in water with 2-3 tablespoons of light mayonnaise.
Mix in preferred seasonings.*
Serve with whole-wheat crackers, like Triscuits or Wheat Thins.

Add a side of baby bell peppers and 2-3 tablespoons of hummus or veggie dip (see option 1, turkey pinwheels, for low-fat veggie dip recipe), and serve with ½-cup fruit of choice (berries, apples, bananas, cantaloupe, etc.).
*Canned/pouch tuna and chicken tends to be high in salt already, so experiment with different seasonings like pepper, garlic/onion powder, or crushed red pepper, if you like it spicy!

4. English Muffin Pizzas
Top a multigrain English muffin with marinara sauce, shredded mozzarella cheese, and sliced pepperoni.
Toast in the oven, air fryer, or microwave just enough to melt the cheese.

Serve with cucumber & tomato salad:
Chop cherry tomatoes and cucumbers into bite-sized pieces and mix in a light Italian or Balsamic dressing.
5. Tacos
Meat options: ground beef, ground turkey, diced chicken
Meatless options: brown rice with black/pinto beans, ground tofu
Heat any of the choices above on the stove with olive oil and taco seasoning until fully cooked through.
Toppings: lettuce, shredded cheese, diced tomatoes, peppers, red onion
Dips: salsa, guacamole, sour cream

Pack your chosen ingredients into your container, and pack two whole-wheat tortillas in a separate bag to enjoy tacos on the go. Another option is to throw these ingredients on top of lettuce or spinach to enjoy a taco bowl or salad!

Stay Creative and Research New Ideas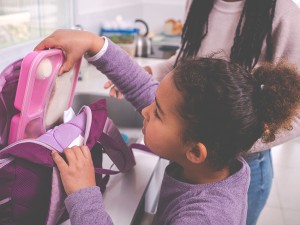 Keep the momentum going with healthy school lunches by making them even more fun and trying new ideas with different food combinations! A resource from the U.S. Department of Health & Human Services offers selecting your food choices around different days or themes (Mexican Monday or Taco Tuesday, anyone?), and a variety of side selections to keep things interesting. Stefanie also refers to recipes on the Academy of Nutrition & Dietetics website, EatRight.org, to keep ideas fresh and interesting. Their snacks and side recipes are a great place to start for bento box lunches and after school snacks!
By planning healthy and nutritious lunches, you'll be keeping bellies full and minds alert throughout the school year! Finding an idea or two that you can easily implement is a great step in the right direction to long-term healthy choices!∎