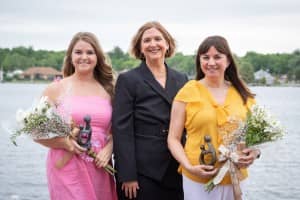 Amanda Brownlee, RN, New Life Unit and Yvonne Butts-Peterson, RN, Yolanda G. Barco Oncology Institute of Meadville Medical Center (MMC) both honored with The DAISY Award® For Extraordinary Nurses. The award is part of the DAISY Foundation's programs to recognize the super-human efforts nurses perform every day.
For the MMC inaugural celebration, the DAISY Committee chose to have two awards; one recognizing an Outpatient Nurse and another recognizing an Inpatient Nurse. The DAISY Committee had formed criteria based around MMC's Mission, Vision, and Standards of Care and selected this year's winners by scoring blinded nominations based on the set criteria.
Inpatient DAISY Award Winner
Amanda Brownlee, RN, New Life Unit
Her nomination story below:
"We had an out-of-state patient come to our hospital with heavy bleeding.  The patient needed an emergency C-section to save her life and her baby's life. The baby was very premature and had to be transferred to another hospital while the mother still required care at Meadville Medical Center. A few days later, the mother was ready for discharge. However, she learned that her baby had taken a turn for the worst and now needed to be transferred to a higher level of care as surgery was needed to save the baby's life.  The mother had no way of getting a ride to Children's Hospital of Pittsburgh as her husband was already there with the baby.  One of our nurses had just finished working a 12-hour shift.   She happens to be a single mother of two boys and could see how distraught the mother was.  Without hesitation, our nurse offered to drive the mother to Pittsburgh in her own vehicle.  She got her there in enough time, so that she was able to reconnect with her baby prior to the surgery."
Outpatient DAISY Award Winner
Yvonne Butts-Peterson, RN, Yolanda G. Barco Oncology Institute
Her nomination story below:
"Being diagnosed with stage III breast cancer at age 51 was horrifying.  Then to learn that I would need 16 rounds of chemotherapy literally knocked the wind out of me. Then I met my infusion nurse and all my angst disappeared. My nurse cared for me once or twice a week for 20 weeks in a way that was magical. She met my anxiety with calm; she met my tears with validation; she met my fear with information; most importantly, she met my wins with celebration. She did not just administer chemotherapy into my body but she filled my heart with love and my mind with hope. Some days, I felt like I was dying but my nurse encouraged me to keep going and to take it day by day, chemo treatment by chemo treatment. My nurse made me focus on all the things that I had to live for.  Because of her, I made it through my 16 treatments. It takes a special person to care for cancer patients and their highs and lows and my nurse is one of the best. Having her win a Daisy Award would be only a small token of my appreciation. I will be forever indebted to her."
About DAISY Foundation
The not-for-profit DAISY Foundation was established by family members in memory of J. Patrick Barnes.  Patrick died at the age of 33 in late 1999 from complications of Idiopathic Thrombocytopenic Purpura (ITP), a little known but not uncommon auto-immune disease.  The care Patrick and his family received from nurses while he was ill inspired this unique means of thanking nurses for making a profound difference in the lives of their patients and patient families.
Said Bonnie Barnes, FAAN, Doctor of Humane Letters (h.c) and Co-Founder of The DAISY Foundation, "When Patrick was critically ill, our family experienced first-hand the remarkable skill and care nurses provide patients every day and night. Yet these unsung heroes are seldom recognized for the super-human work they do.  The kind of work the nurses at Meadville Medical Center are called on to do every day epitomizes the purpose of The DAISY Award."
Valerie B. Waid, MBA, BSN, RN, FACHE, Chief Nurse Executive stated, "We are excited and honored to be part of the DAISY program and recognize our extraordinary nurses. This year we recognized two exceptional nurses.  Both are outstanding nurses at Meadville Medical Center and their dedication to our patients and families truly shows. Our nurses are vital to exceptional patient care. We are very fortunate to have wonderful nurses caring for our community. "
In addition to the DAISY Award for Extraordinary Nurses, the Foundation expresses gratitude to the nursing profession internationally in over 5,500 healthcare facilities and schools of nursing with recognition of Nurse-led Teams, Nurse Leaders, Nurses Advancing Health Equity, Nursing Faculty, Nursing Students, Lifetime Achievement in Nursing and through the J. Patrick Barnes Grants for Nursing Research and Evidence-Based Practice Projects, Medical Mission Grants and their new Health Equity Grant programs. More information is available at DAISYfoundation.org.