The Unwinding of Medicaid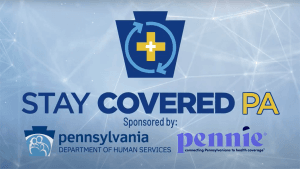 Pandemic-era policies that provided continuous enrollment in Medicaid are now ending, often referred to as the "unwinding" of Medicaid. Open enrollment for those without health insurance, or are ineligible to enroll in federal and state assistance, is also quickly approaching on November 1. Due to federal renewal requirements, and the myriad of questions and concerns in general about healthcare coverage, the Pennsylvania Department of Human Services recently produced and aired, "Stay Covered PA", along with Pennie, Pennsylvania's health coverage marketplace.
Healthcare Enrollment and Renewals
According to a statistic cited in the program, more than 3.7 million Pennsylvanians are enrolled in Medicaid and CHIP (children's health insurance program). That number accounts for over one-fifth of the state's population! The Pennsylvania Department of Human Services has established a communication plan to contact those currently enrolled in such programs to facilitate and expedite renewals. Among the information received will be how to use a COMPASS account to manage Medicaid and CHIP coverage.
Watch Part I of Stay Covered PA
Those not eligible to enroll or renew Medicaid or CHIP coverage will be directed to Pennie. Complete details are outlined in part one of Stay Covered PA, from WHTM –abc27.
Local Assistance and Community Outreach
Meadville Medical Center's Outreach and Enrollment Coordinator for Community Health Services, Lisa Cox, also appeared in "Stay Covered PA"! Lisa is a Pennie-certified assister whose services for finding healthcare coverage are free to customers. If you need help enrolling through Pennie, Medicaid, or CHIP, contact Lisa to learn more and discuss your options. Her interview segment can be found below, and additional information on financial assistance at MMC, as well as Lisa's contact information can be found on our website at: https://www.mmchs.org/resources/financial-assistance/.
Lisa Cox Interview from Stay Covered PA